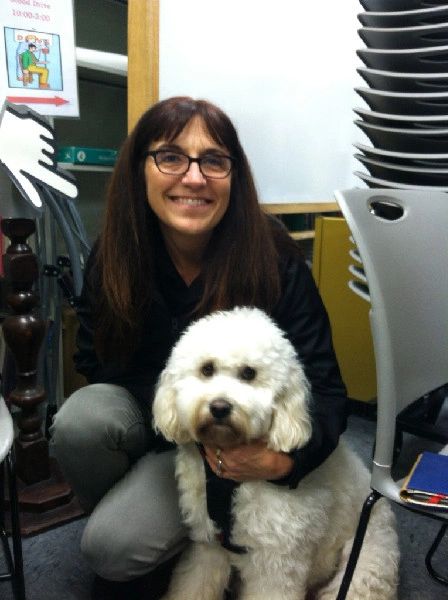 Shanda & Bella just passed their Delta Certification!!!! Good job.

Also just heard from one of our girls in PA who also passed her Delta Test.

Gus works for the Red Cross and is an inspiration to us all and we are proud to highlight his wonderful story.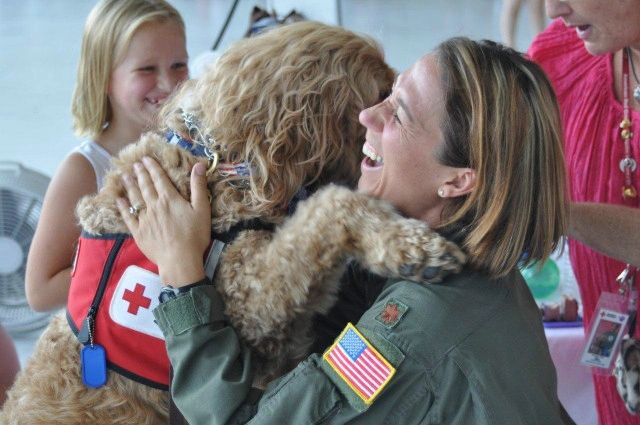 Gus helps soldiers and their families at the airbase during deployment and home coming. He is on hand to help calm nerves. As you can see he loves his job. Thank you Gus and Kathy for your service.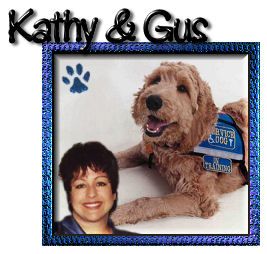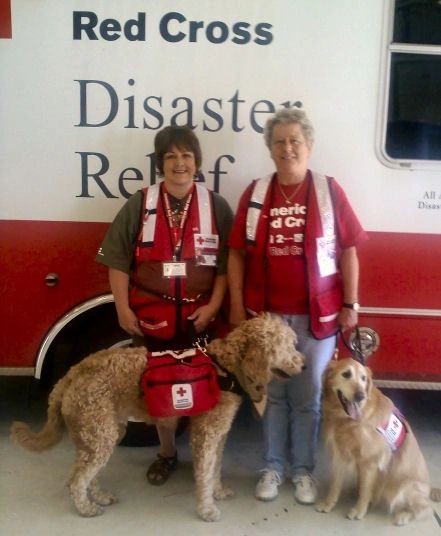 My name is Kathy Miller and I am the owner/trainer of Gus. I am 48 years old, have Multiple Sclerosis and Gus is my Service Dog.
Gus will be 3 years old in June 2009. He comes from Logan Hill Farm in Gustavus Ohio (thus the name Gus). His breeder (Gwen), knew he was special/different from the rest of his litter soon after his birth. I have to agree. I have worked with many dogs over the years, but none as smart or willing to learn as Gus. I have done his Service Dog training myself, instead of being on a list through one of the agencies that places Service Dogs, which can take up to 5 years. There are so many people that need a Service Dog, and too few to go around.
I taught him basic obedience at home and then took him to Youngstown Allbreeds for the Obedience 1 & 2, and Attention classes for some socialization. He graduated from those classes and then earned his CGC.
I then took Gus to take his Public Access Test. A dog must pass this test to be used as a Service Dog. Although, Gus does not need anything else to be with me in public, he has also taken and passed the Therapy Dog test.
Gus is also a member of our local branch of the American Red Cross, with a paw print on his application as his signature. He is my partner at work in Disaster Services and Services to the Armed Forces. We have started a group in our chapter called C.A.T. which stands for Canine Action Team. Our human Disaster Team is called D.A.T. which stands for Disaster Action Team. Gus accompanies us to the Military Base locally where he works his magic on our Troops and their families. He also goes on Disaster calls such as house fires, and floods. Dogs can do wonderful things for the spirits of people who are facing some of the worst times of their lives.
I work with Gus almost every day, giving him days off and lots of time to play and be a happy dog of course. Some days it is very difficult for me, I might be very tired or be having a day where I am off balance all the time, falling down, etc., but Gus is very forgiving, and does what he is supposed to even if I mess up. Gus is loved by everyone he meets. His manners are impeccable, he is a true gentleman. I am also on a few online training lists, where professional service dog trainers guide me along the way with suggestions and help. There are even step by step videos to teach each task he needs to learn.
Gus is very eager to work and to learn. Some of the things that Gus can do for me are; get the phone, help me up from a fall, go for help, turn on lights, carry bags, pick up anything I drop (even as small as a dime), steady me as I walk with the harness he wears, help me get my clothes off, pick up things I point to with a laser pointer, etc. There are so many things he is happy to do for me. Every time I write all of this down, I am able to see the accomplishments he has made in his short time with me. I am very proud of him.
Thank you Gwen, for giving me my best friend and partner in life.
Kathy & Gus
Ms. Miller,
Ms. Miller,
I wanted to take a few moments to email you to let you know how well your Red Cross K-9 Action Team was received.
I have had nothing but favorable comments about you, your co-worker, and the two members of the K-9 Action Team (Gus and Oki).
For witnessing first hand at the crowds that were consistently around your booth to the numbers of military family members that wanted their pictures taken with either Gus or Oki (my family included); I wanted to say that it was a pleasure meeting everyone involved with your team.
Gus and Oki were extremely well behaved, disciplined, trained and very approachable to the countless children that flocked to your booth.
The training and handling of your dogs was nothing short of outstanding and one could only imagine the possibilities of support these fine animals could bring the local and surrounding region.
Again, I wanted to say 'Thank You' for being there for all of us and for all the families of the United States Armed Forces.
Brian L. Zator, CMSgt, USAFR
911 AW/FMAO
Pittsburgh IAP ARS PA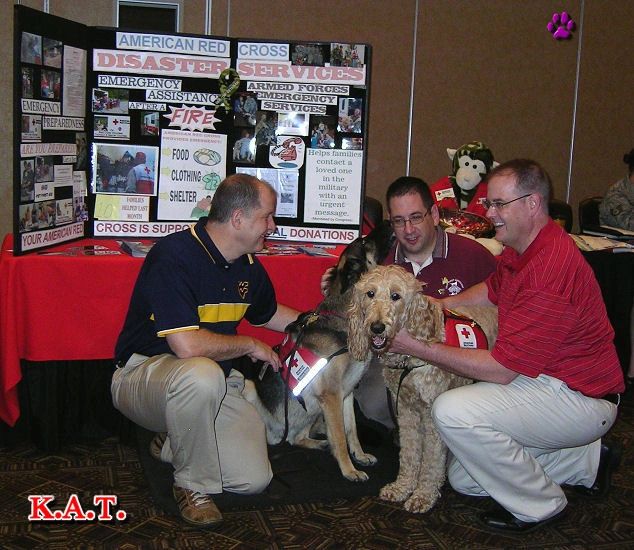 Nova and Sampson
They are Blair and Elliot's English Golden Retrievers.  They work in Wisconsin at facilities for the mentally and physically challenged.  Sampson works also in a facility for Adult's with Autisim.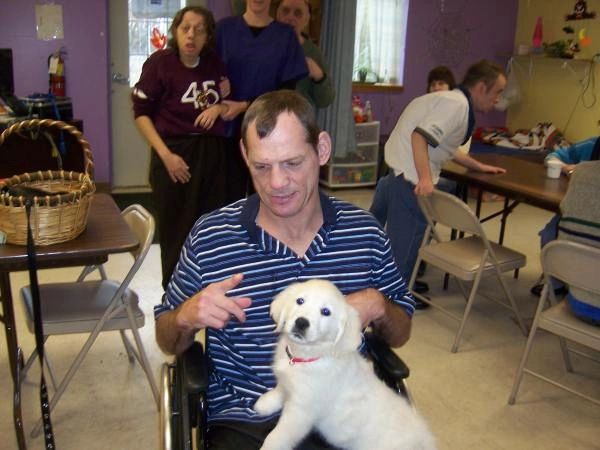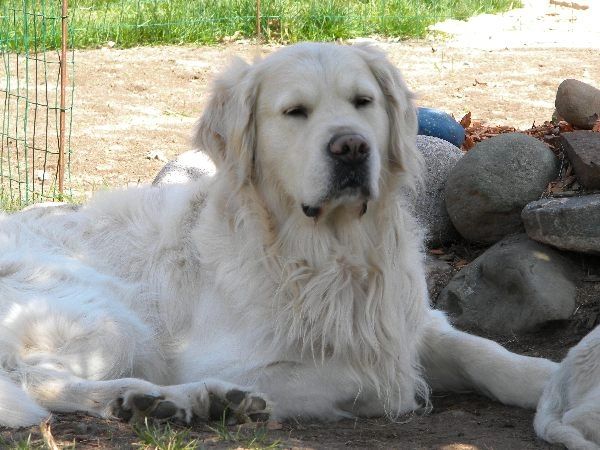 SAMPSON 3.5 Years old - may 2011
Just got this from  Sampson's owner:
May 2011
Gwen,
Looks like Sampson's pup is going to a well known Author, phyciatrist and professor who works with children and the disabled. He is really a neat man.  His name is Aubrey Fine. He's speaks at conventions on this bond and the great work they can accomplish by using animals.  A co-worker in education purchased Nova's pup from last year.  Aubrey just lost his retriever who is the main dog in most his books about this animal human connection in therapy. Aubrey found us through this other family. So, we will be donating first pick of females to him for his work out of Misty and Sampson's litter. As we've heard really good comments about their personalities and such.   If you google his name you'll see all the great work Aubrey is advocating for in the medical field.
He's an interesting fella.  He'll be coming over to visit and observe the puppies from CA for a few days this Summer.  BUT, he knows what he is looking for and what an honor to have Sampson's pup be doing this wonderful work.  AMAZING.......how this all happened?  I did get an autographed book he wrote which is really cool! 
I thought you would enjoy knowing this and that Blair would know her offspring are keeping up the work in therapy.  Some a little more famous than ours here in Northern Wisconsin. Hee Hee.  So, look for Sampson's pup in his upcoming books down the road.  He said he will give me copies of what he writes as we share the same goal with the disabled.
 Respectfully,
Teresa DesLauriers