OUR MOMS
All our Moms are calm, intelligent, fabulous family members and nurturing mothers. It is especially apparent when you see our puppies and how sweet their dispositions are. We have chosen the mothers specifically for their temperament and superb breeding. The puppies are CKC or AKC registered, vet checked, wormed and have first vaccinations before they go to their new home. The puppies will be exposed to a flap door and most will go out to potty. All will be paper trained. While we make no guarantees, we will take back a puppy, no questions asked. Refund prices will be determined on a case by case basis, primarily based on resale price.

**Our mission was to make great family pets and we want the dog and the new family to be happy.**

"Claris" of Logan Hill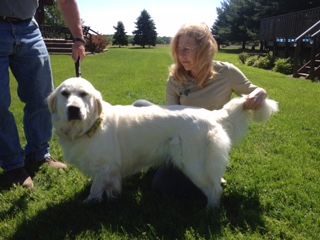 Claris DOB November 12, 2013; Blair is her grandmother; her mother is a daughter of Blair and Elliot. She is the classic blocky English with a very white plush coat. She is unbelievably sweet, very smart, gentle and has that special sensitive temperament. She has champion bloodlines also on her father's side!!! Gorgeous!!!
She is expecting her first litter Feb 14, 2016. She will whelp her litter with Red Barn Doodles - south of Columbus. She will go there a week before her due date.


"Lucy" of Logan Hill AKA Maggie
she is at www.Redbarndoodles.com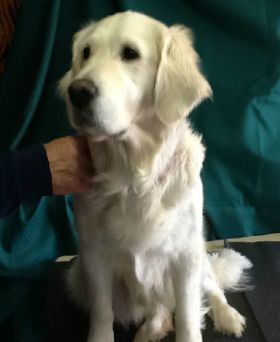 Born August 22, 2008; Lucy is Blair & Elliot's daughter, litter mate of Ivy and sister to Misty- 19 inches at the shoulder. She looks a lot like her mother but has a wavier coat. She is playful, loves to chase birds. She gets along with everyone and has an easy going temperament. Her new family loves her very much. She is a proven mother and I know she will continue to produce wonderful litters for Red Barn Doodles.
"Bonny" Blair of Logan Hill - at her new home.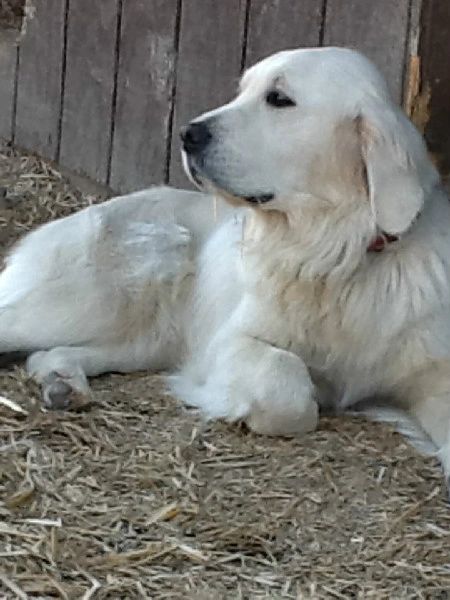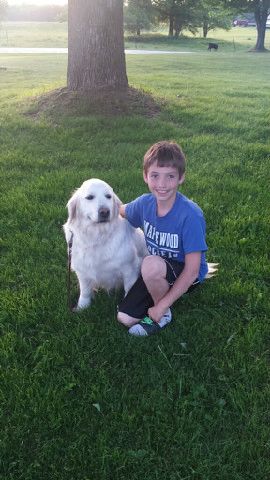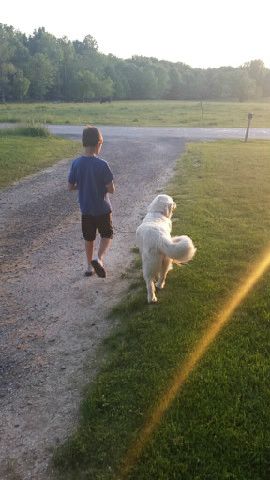 Born August 6, 2010 -
Bonny
is Blair & Dylan's daughter - is 20 inches at the shoulder. She is a half sister to the other English that we have here. Bonny has her mother's white, straight coat. She is taller than the others and has a big head like her dad. She is from Dylan's last litter. She loves to chase birds now too and plays with young Claris. She is the most aware and protective, she will bark when someone comes up the driveway.
"Ivy" RETIRED -Crystal of Logan Hill
Ivy @ 3 year old and Bonnie @ 1 year old
Born August 22, 2008,
Ivy
is Blair & Elliot's daughter. Her AKC registered name is Crystal but the children from her family wanted to call her Ivy - so that is what she is called. Ivy has her mother Blair's silky white coat and wonderful easy temperament. She is 20 inches at the shoulder. She is taller than her mother and has a blocky head.
"Gem" Ambers Golden Gem
-
Retired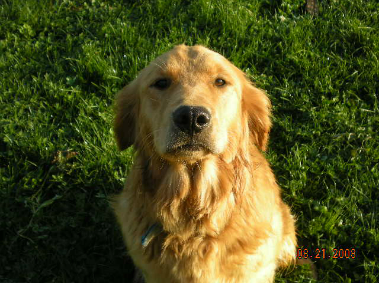 Preston & Gem
Gem, born November 6, 2006 is a small, petite Golden Retriever and is only 17.5 inches at the shoulder and 50 lbs. She has a deep golden color. She is very sweet, very calm, gentle and loves to play. She comes from Champion bloodlines. Gem is related to McDoogle. Gem loves people most of all. She does enjoy swimming in the pond and running in the woods but being patted by someone is her most favorite. Thank you Gem you are such a great mom and you will enjoy your retirement. She has her own family in a nearby town.
"Misty" of Logan Hill - retired
Now at StrikeGolden.com or contact Teresa DesLauiers snowdogs@centurylink.net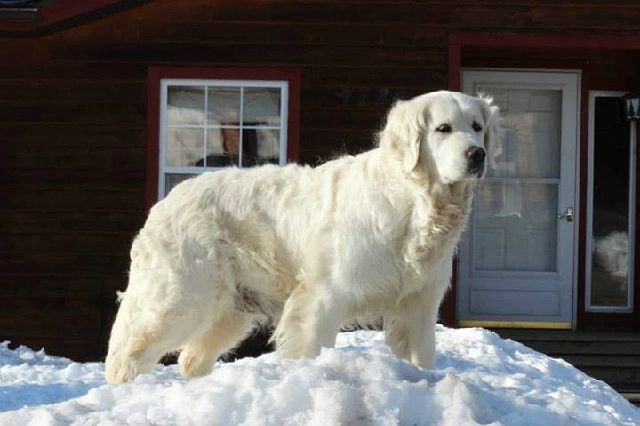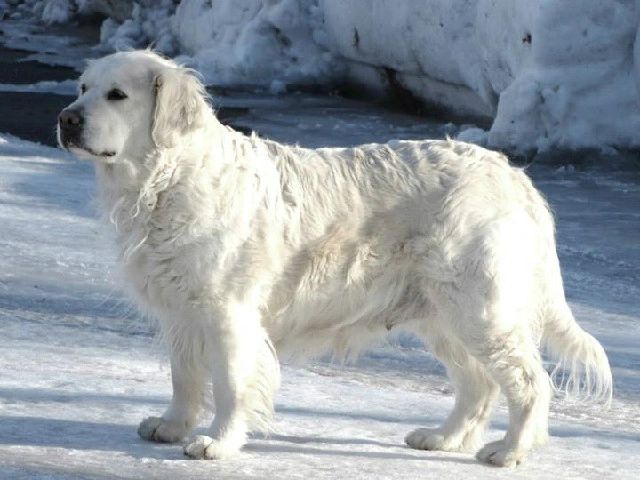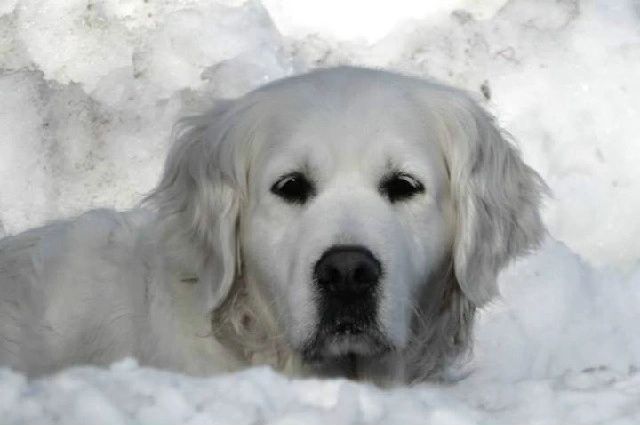 Now at StrikeGolden.com or contact Teresa DesLauiers snowdogs@centurylink.com
Born on August 17, 2007, here at Logan Hill Farm.
She is only 18 inches at the shoulder and 65 lbs.
She is the daughter of Blair and Elliot, both white, English Golden Retrievers.
Toni "Blair" of Logan Hill - Retired
She is the foundation of all of our English Golden Retrievers; thank you Blair! She lives in Columbus Ohio with her family. She still gets into mischief.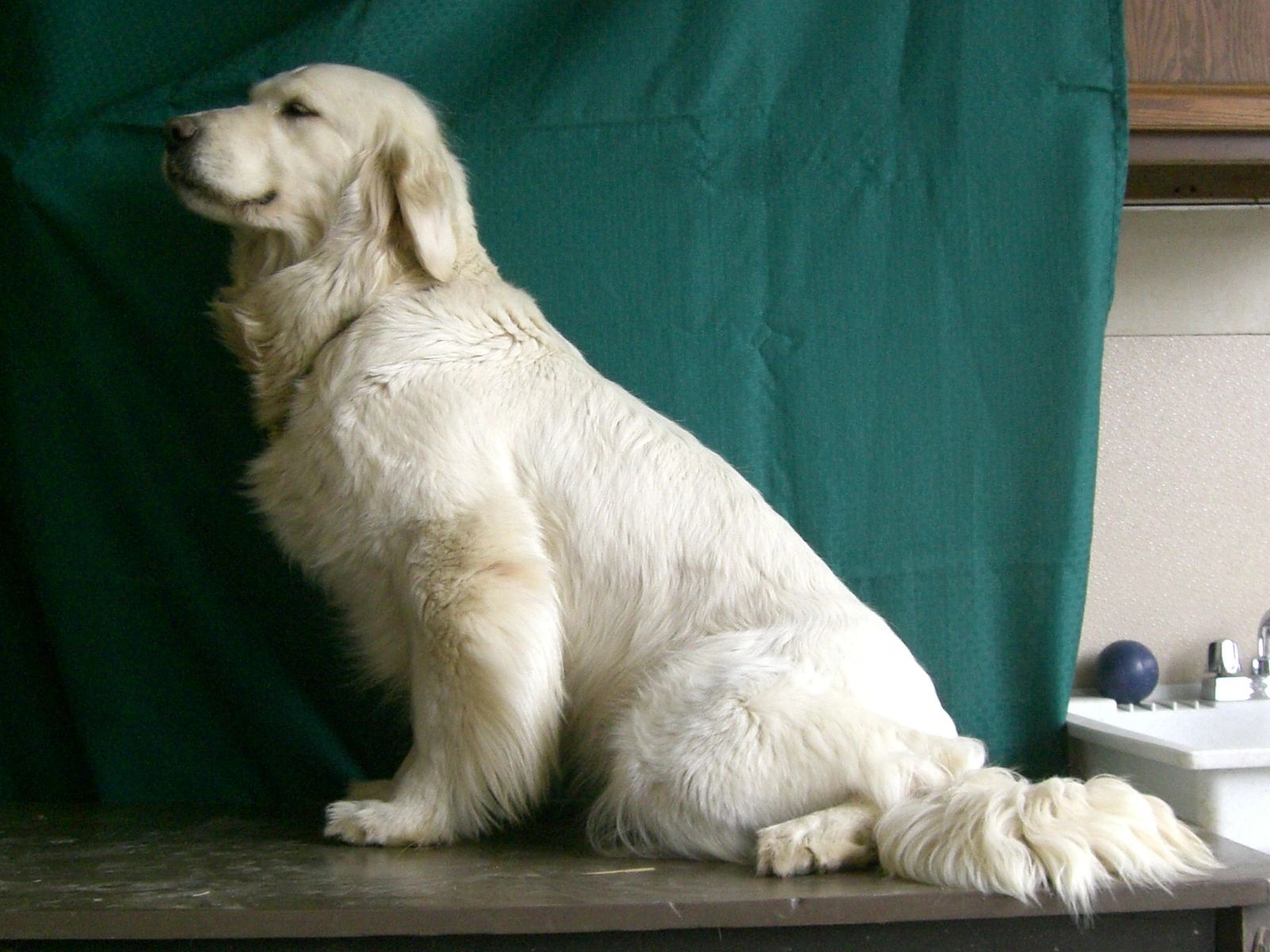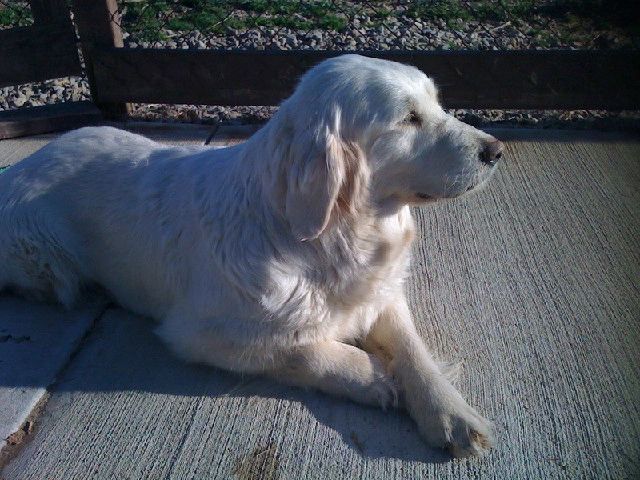 Blair is mother to Misty, Ivy, Lucy & Bonny; our breeding mothers. Claris is a granddaughter who will be a mother for us this year.
Born October 8, 2003, Blair is a gorgeous ultra white English Golden Retriever, only 18 inches at the shoulder, 65 lbs. She does not have cream spots or highlights, she is totally white. Blair has great breeding from a line of therapy goldens which attribute to her calm and very observant demeanor. She is very sensitive to what her people are feeling. She has the quietest pups as she cares for them intensely. She is very intelligent, calm, sensitive, and likes to run and swim. She is enjoying retirement with her new family where she gets much deserved pats and attention, she also have a young boy to take care of.
Mandy's Madame "McDoogle"- Retired
She is living in Johnstown, PA and very happy. She loves her new family and is making them very happy. Thank you Micky for all your great mothering.


McDoogle is born on January 9, 2004. She is a dark golden Retriever, about 20 inches at the shoulder. She is from the same kennel as Gem. They have wonderful breeding. McDoogle is a happy, easy going girl. Gets along with everyone and can be left in the yard all day. She will swim, go to the woods, lay under the trees and just be happy to be around. Her laid back temperament carries over to her puppies. She was a great mom and willing to mother other pups. Her puppies want for nothing.

"Heidi" of Logan Hill - retired
Heidi has found a home!!! She is needed and loving it. A young woman had been through a very difficult time for several years and found herself alone. Not anymore!! They both have found each other in their time of need. Heidi couldn't be happier to ease the pain and be pampered. Heidi you deserve all the happiness in the world! We miss you but are so proud that you can have your own home and person to love and care for.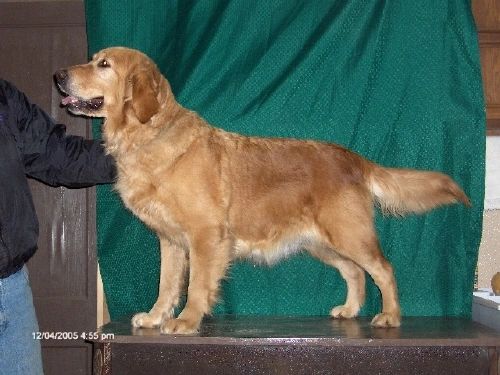 "Eve" Jacob's Eevee at Breezey Ridge - retired
Now lives with her family in Hubbard, Ohio and goes by the name "Garbo". She has many other dogs to play with and is the assistant to her new Mother who trains dogs, puppies and Service dogs at "The Learning Dog". Lucky Eve, she deserves all the happiness in the world. Best wishes Eve; do good work!!!!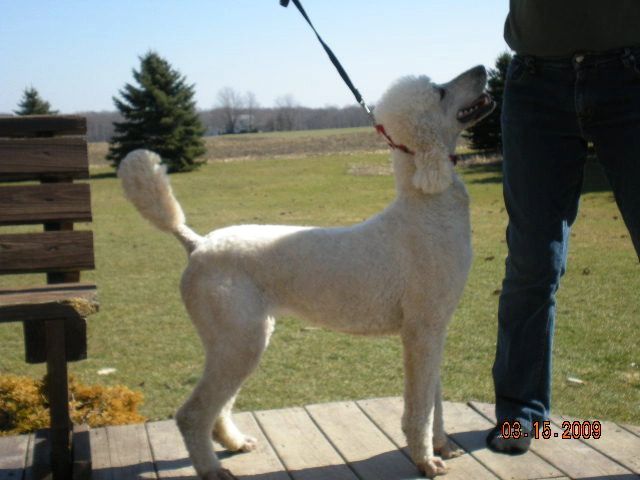 This is Miss Claris DOB October 12, 2013. She comes to us from D'nan Scott in Amarillo TX. She is the Daughter of Maggie and Granddaughter of our Blair. Her father is a international Champion. Claris is a beautiful, sweet, calm puppy. We will be keeping her. We have to have at least one English girl. What a doll she is.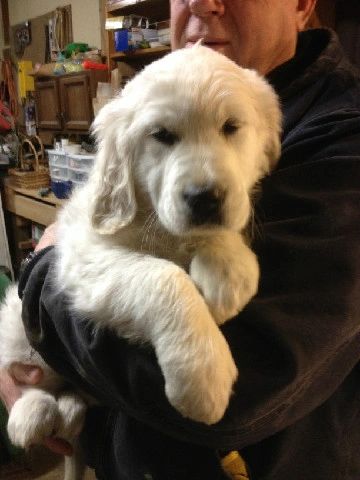 Bonnie & Pippi - Bonnie is Blair's daughter. Pippi is a mini English Goldendoodle - Her mother is Misty & father Simon.
"Blair"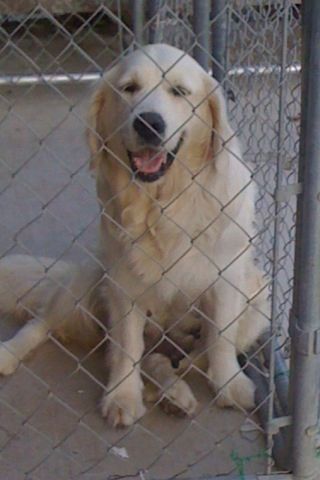 Misty is Blair's daughter