RECENT STANDARD GOLDENDOODLES: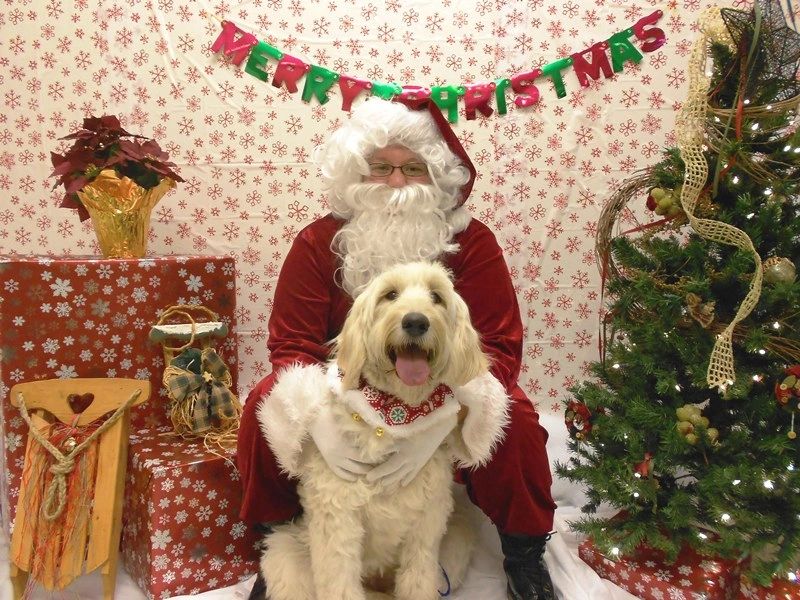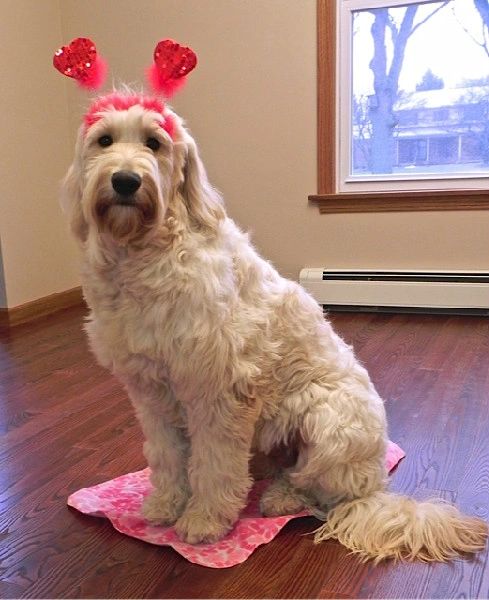 These two are from Preston last year. Miss Vera went to see Santa & is a happy Valentine. Mr. Teddy loves to ride in the car in Deleware.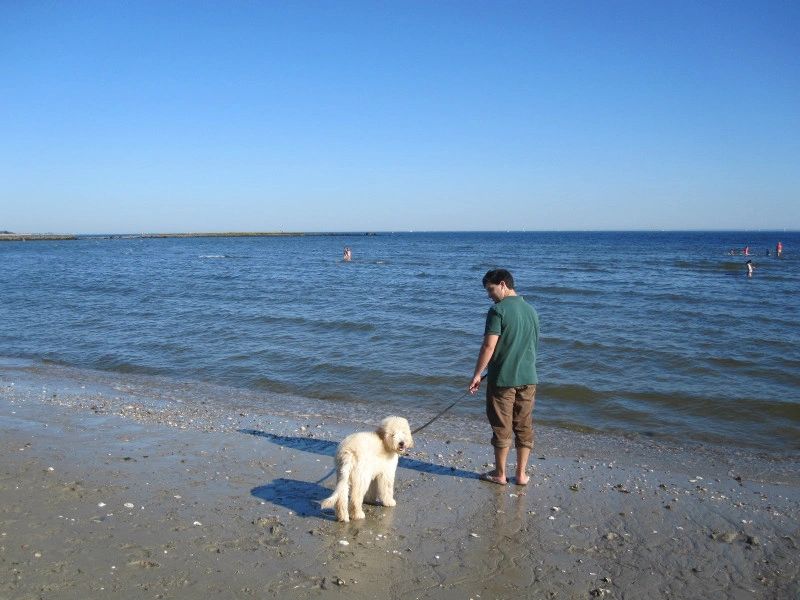 This is Hank he lives in Conneticut. He is a Standard Goldendoodle from McDoogle & Preston 2011. He was the biggest boy.
A note from his family:
Hi Gwen,
Hank is certainly part of our family! We love him. Such a good boy, smart,
sweet! He goes to the beach, learned to swim and loves his yard. We
started obedience school on Monday night, he did great. Thank you for such
a wonderful dog!!!
Terrie Langer
HANK NOW AT 6 MONTH'S OLD: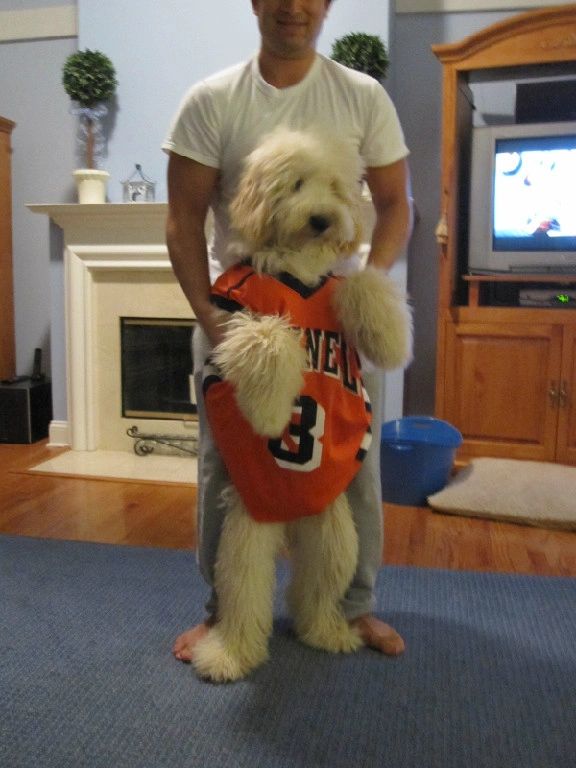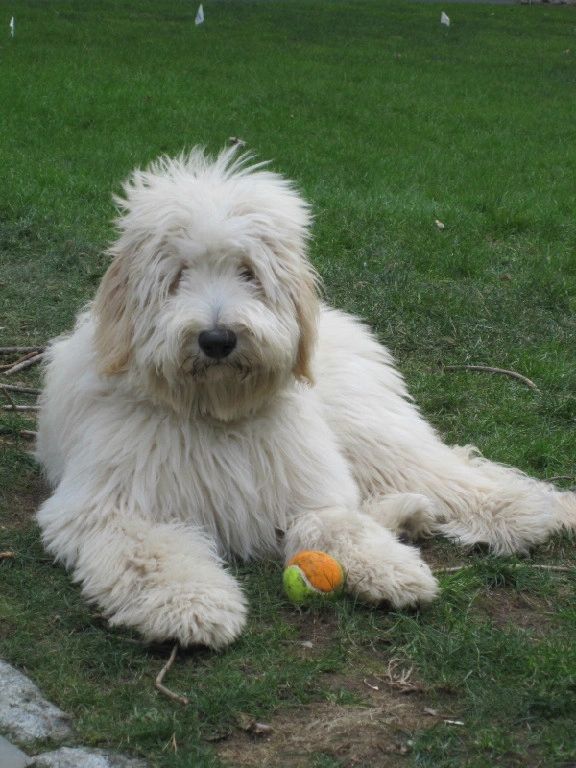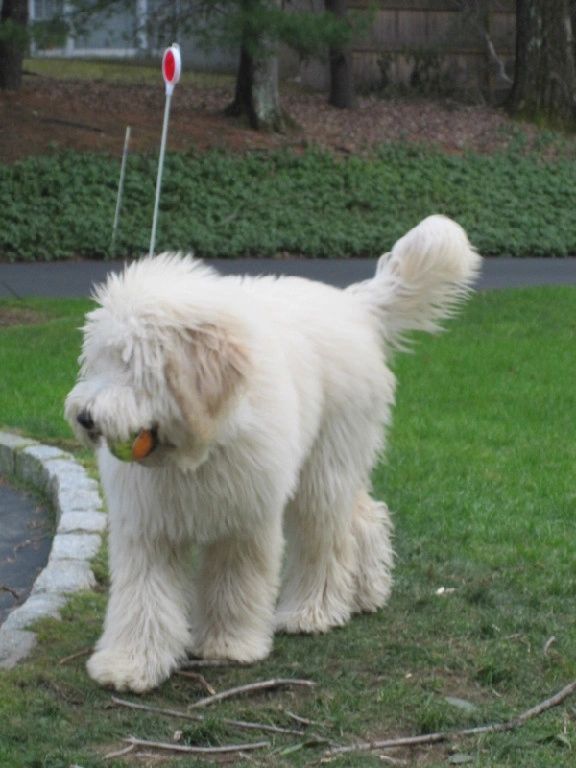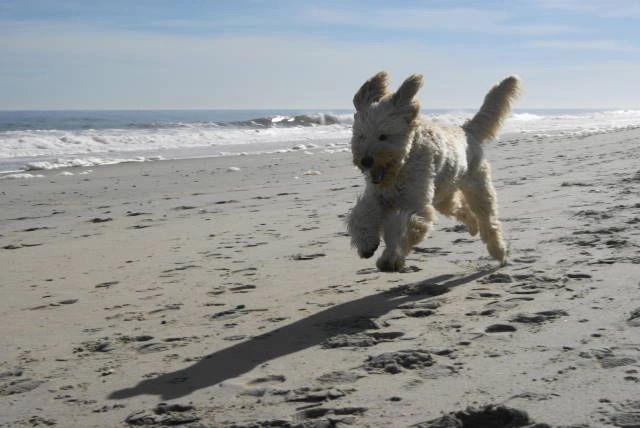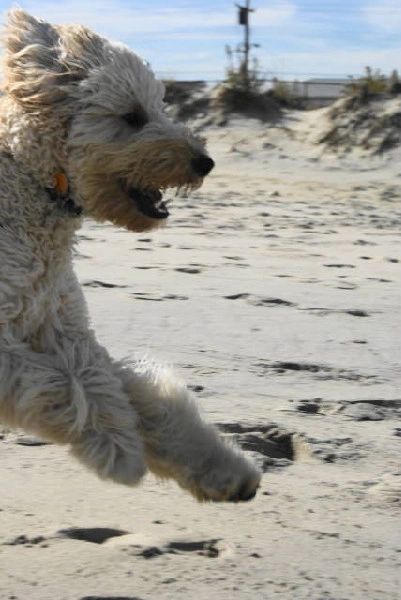 This is Jake from NJ here is a note from his family:
Jake is now about 8 months old and fitting in perfectly with our family! He's somewhere between 60-65 lbs. We'll expect him to put on maybe another 10 lbs.
He seems to be the center of attention wherever we go (and he knows it) - his personality is so bold, he'll walk up to complete strangers and wait for them to pet him or acknowledge him. He's a lover at heart though - and quite the cuddler. As I'm writing to you, he's next to me on the couch with his head right in my lap :-)
He still thinks he's a small dog at heart and enjoys playing with dogs 1/8th his size, like yorkies, pomeranians and malteses. He seems to gravitate towards playing with the other Goldendoodles at the park. And boy, when he seeks out another GDoodle, its incredible to watch them play! I do have to admit though, yours are still the most beautiful GDoodle's I have ever seen. The more and more I bump into them locally, the more i am amazed at how handsome he is.
We were even complimented by his doggie daycare for Jake being the smartest, most well-trained and good-looking doodle they have! They ask us to keep bringing him back they love him so much.



This is Ruby and Itty. Both from McDoogle and Preston; sisters of Jake above and Sidney below. These are Standard Goldendoodles.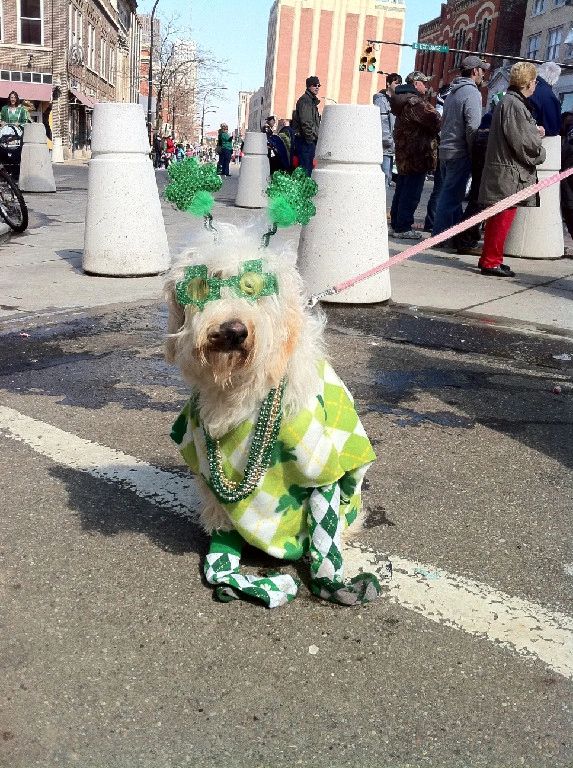 RUBY & ITTY RUBY


Hi Gwen!

Hard to believe Ruby had her first birthday this weekend. It's been a fabulous year with her full of love, joy, and one new adventure after another.

She is without a doubt the star of the Chapman pack. She is smart, loyal, gentle, and loves being one of us as much as we love having her.

We can't thank you enough for her. Hope all is well with you. We have given your name to a number of different people who are taken with Ruby as well.

I'll include a couple choice pictures of Ruby and her sis Itty, who is a doll herself.

Best wishes,

Mark and Anne Chapman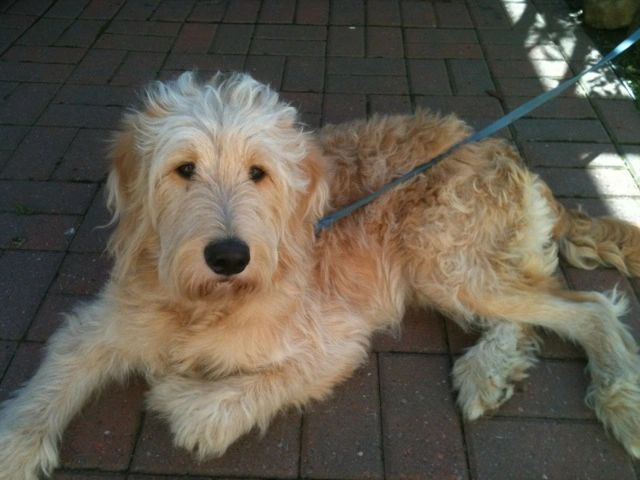 This is Sidney, he lives in Wheatland PA, he is Jake's brother. Here is a note from his family:
Brian and I absolutely love our baby Sidney! We was born on my husband's birthday (March 19th this year) and is a beautiful dog. He is so friendly, well behaved and absolutely adorable. People are always stopping us to ask about him. He loves to golf, hike in the woods, camp, take longs walks in the park, swim and play with other dogs. He is kind to everyone, but loves children. He has brought us so much happiness and we take very good care of him. I attached a few pictures, but we would like to come up and see you and his mom/dad soon.


Gem & Preston's Son Marley lives in Columbus Ohio. He is a standard Goldendoodle from this summer 2010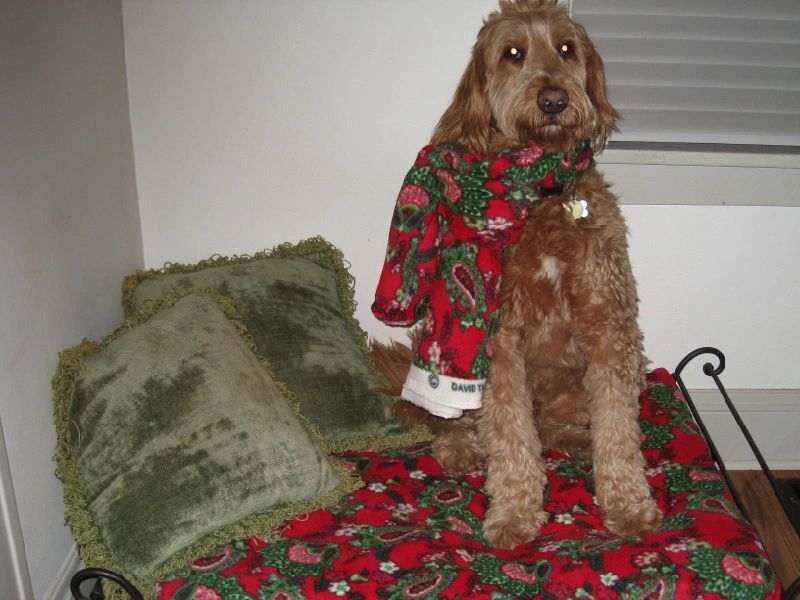 This is Rusty Kickel. He lives in Ohio. He is Heidi and Marley's son. Standard Goldendoodle. He will be making a movie debut soon.
MINI English Goldendoodles 2010:
This is Sammy from NJ, I think he likes his Christmas Present. A note from the familiy:

Hi Gwen,

I wanted to wish you Happy Holidays and let you know how Apricot Boy, now Sammy, is doing.
He is such a good boy! He's 7 ½ months weighing about 40lbs. He fit right in with us and we enjoy him every day.
I enclosed some pictures of him opening his first Christmas presents and playing in his 1st snow fall.
Hope all is well with you and your family and thanks again for helping us get our beloved pet!!

Joe & Teresa Mancini
This is "Libby" also in NJ. Below a note from the Family: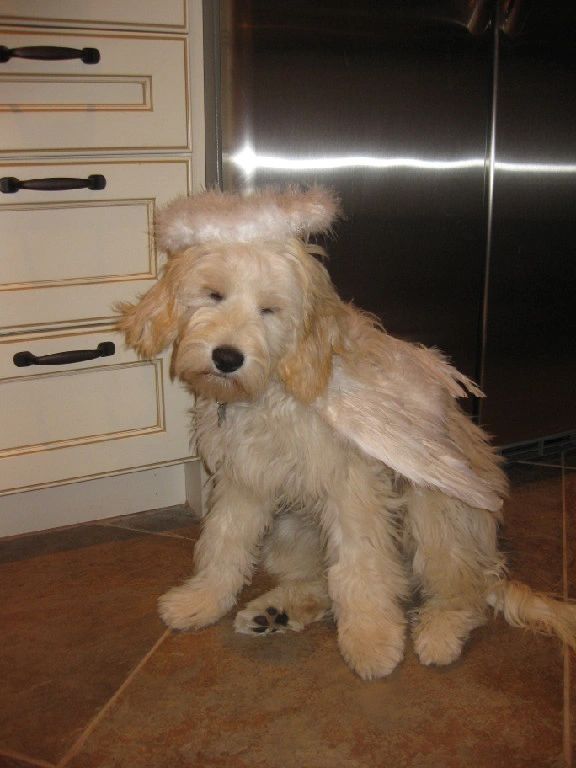 Boomer is also our pup from 2009.
Hi Gwen! I intended to send photos earlier but have been crazy busy. What a better time than Christmas to send an update on Liberty aka "Libby".
She fit into our family as though she has been here forever. She is just a dream puppy. She keeps us busy, but the kids keep her busy as well. She comes everywhere with us, to games, the boat, the park and grandmas house. She even had a playdate with Boomer. She really is a member of the family!!! Thank you!!
Wishing you all a very Merry Christmas!!!
The Stanich family

Stanley lives outside of Chicago. He is Misty & Simon's Mini-english doodle from this year.
Louie lives in Marysville OH and is already a good swimmer. He is also from Misty & Simon's litter from this year.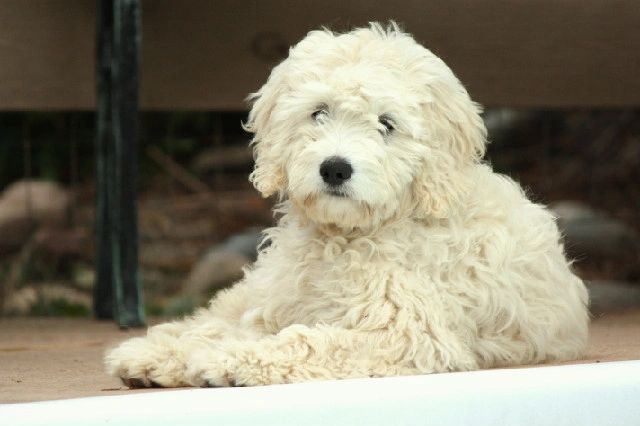 Sadie is a sister to the boys above she lives in Colorado.
A note from the family:
"
It's been just over a week since we've had our baby girl Sadie and we've LOVED her! She's sleeping through the night, doing great with crate training and has fit right into our family. She's calm but silly and spunky with so much personality. We can't believe her disposition. What a fun dog! Thanks for breeding such wonderful dogs. We're so pleased to have her. "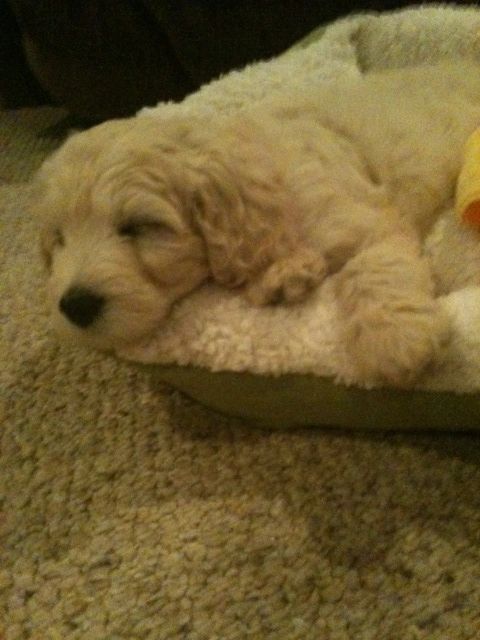 Ruby lives in Ohio and is also a sister to Sadie, Louie & Stanley.
Macy is also a sister and lives in NY.
STANDARD GOLDENDOODLE:

This is Jose & Finnigan. Josie is a standard Goldendoodle & Finnigan is a Mini-English goldendoodle from the 2009 litter. Both are from Logan Hill Farm and happily living in NJ.
Jasper lives in NJ
Yankee lives in NY - he is a mini doodle from Gem and Simon.
From the Family:
"I just can't believe that he is already 9 months old and how much we all love him. Yankee has been the best thing for our entire family. He has taught Adam ( my son with Aspergers) about love and affection. Yankee is our younger son's best friend. He makes my husband and I laugh every day. He loves to go on long walks carrying sticks in his mouth. He sticks his head in the shower every night as the boys get ready for bed. He flips ice cubes and his favorite food is popcorn. He's just a little spoiled!!! I could never thank you enough for blessing us with Yankee!! He has has brought so much joy into my life. In fact, Yankee is going to visit a local nursing home with me as a therapy dog in the next few months. He really loves people!!! Thank you so much for breeding our "best dog in the world."
Monte & her new love.
FROM THE FAMILY:

"Hi Gwen,
I wanted to send you pics of our mini goldendoodle, Monte, that we got from you in November 2008, she was born September 17th. She has been so wonderful, we couldn't imagine having any other dog. We get so many compliments about her personality, obedience, and how cute she is. No one can believe she is a year and a half years old now. We consider her our first daughter dog and now we have a three month old daughter that Monte gets along with perfectly. We wanted to share some pictures of her from her puppy days and more recently. Her color did lighten quite a bit. We just love her so much! Thanks and enjoy the pics.
Jim and Amber DeWeese
Pickerington, Ohio"

Gem's Mini-Goldendoodles:
"
Max is also a mini-doodle from Gem & Simon's 2008 litter.
Sadie Davern, lives in Hilliard Ohio, she is a mini goldendoodle. This is Pippi (English Mini) & Kuma is a Mini Goldendoodle (Sadies brother)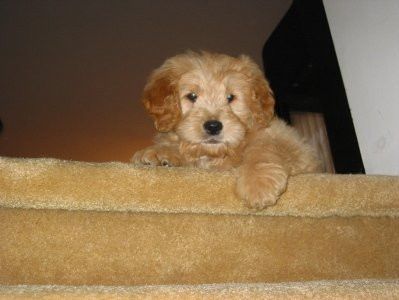 Boomer lives in NJ. He has so much fun with his busy family.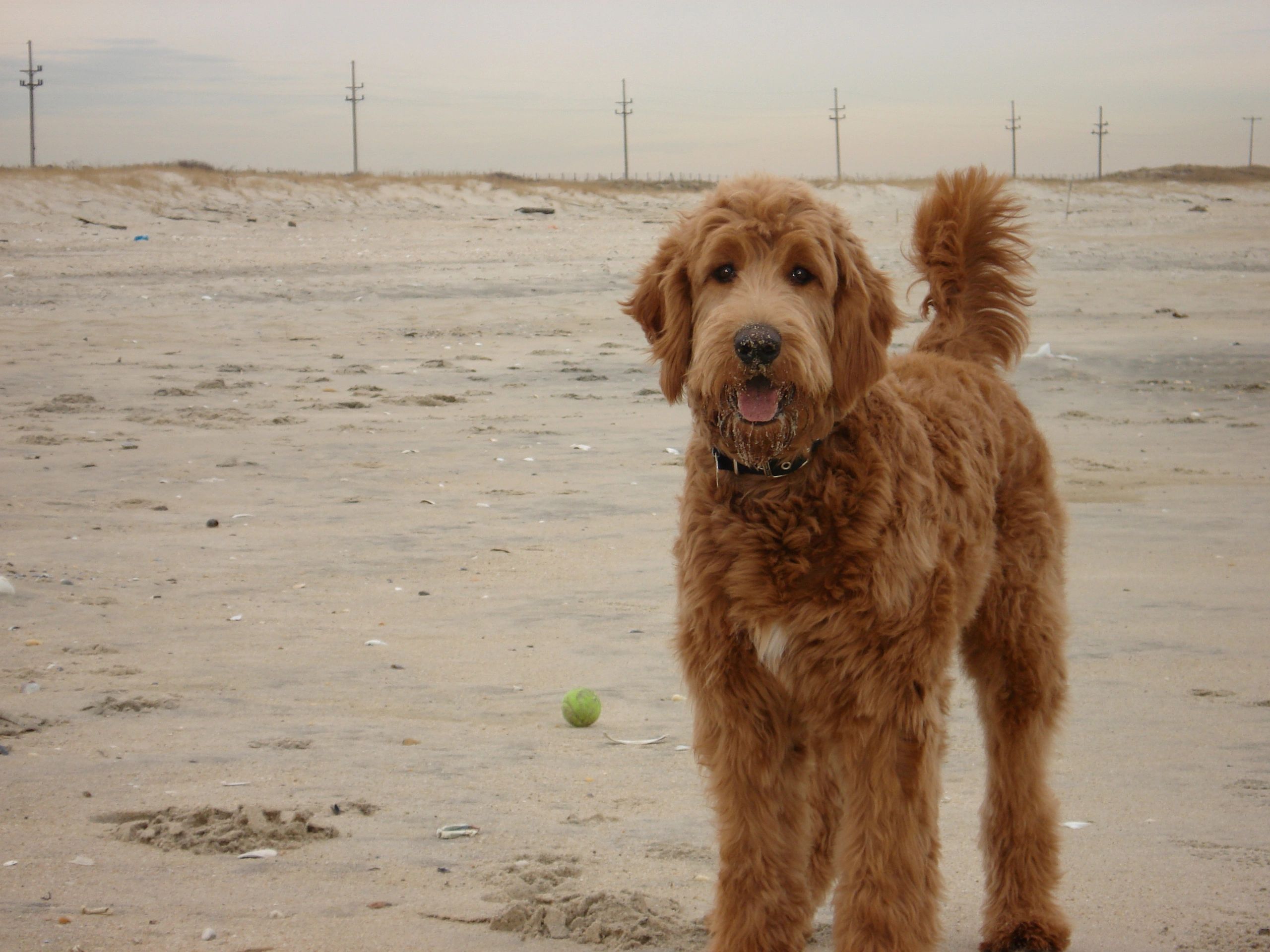 "Max" from Heidi & Marley, 2006. From the family:
Thank you for the photos of Marey. I can't believe how much he looks like his Daddy. Max has part of his mother's personality because he is very nurturing for a male. He has a collection of stuffed animals that he spends lots of time licking. He is very gentle with them and carries them around to share with everyone. He sleeps with a teddy bear and actually holds it in his paws.
He also has to be the leader.
He loves going on hiking trails and leads everyone. Max runs to the back of the line to check on everyone. He refuses to move forward if anyone strays from the pack. We all have to stay together.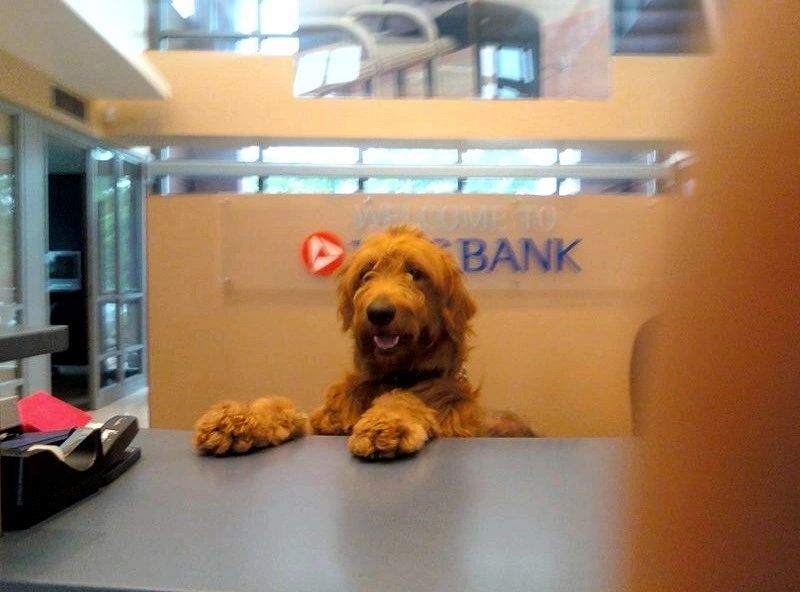 Miller in NJ. He keeps his family busy and is a conversation piece everywhere he goes. This is Soleil & Sammy's Standard Golden Doodle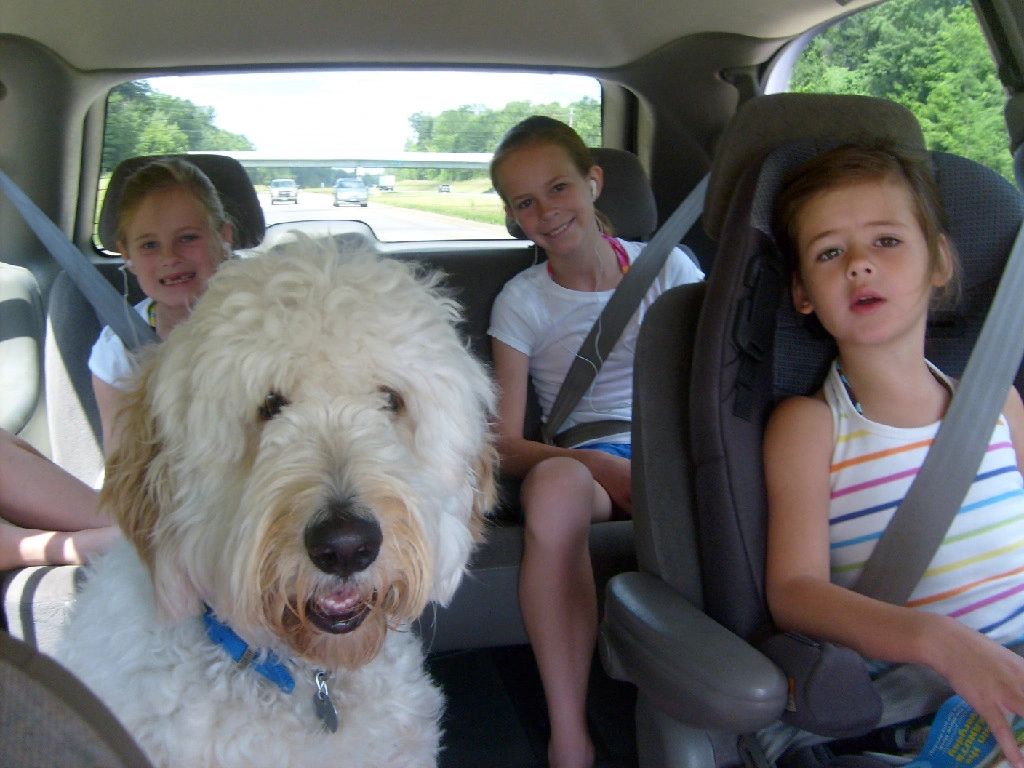 This is Heidi and Sammy's standard golden doodle, Kobe, you can do anything with him.
Tressel lives in Cleveland Ohio. His "mom" works for Hallmark, he has appeared on a few cards. He is the other big boy in Heidi and Sammy's litter, so he is a brother to Kobe.

Winston lives in NJ. He is the son of Eve and Buddy. His family says he is soooo easy to train.


This is Molley she came for a visit to Logan Hill Farm with her mom. She makes her family and everyone she meets happy in Ohio. She is Winston's sister. Her parents are: Eve a standard Poodle and Buddy a Goldendoodle from our farm.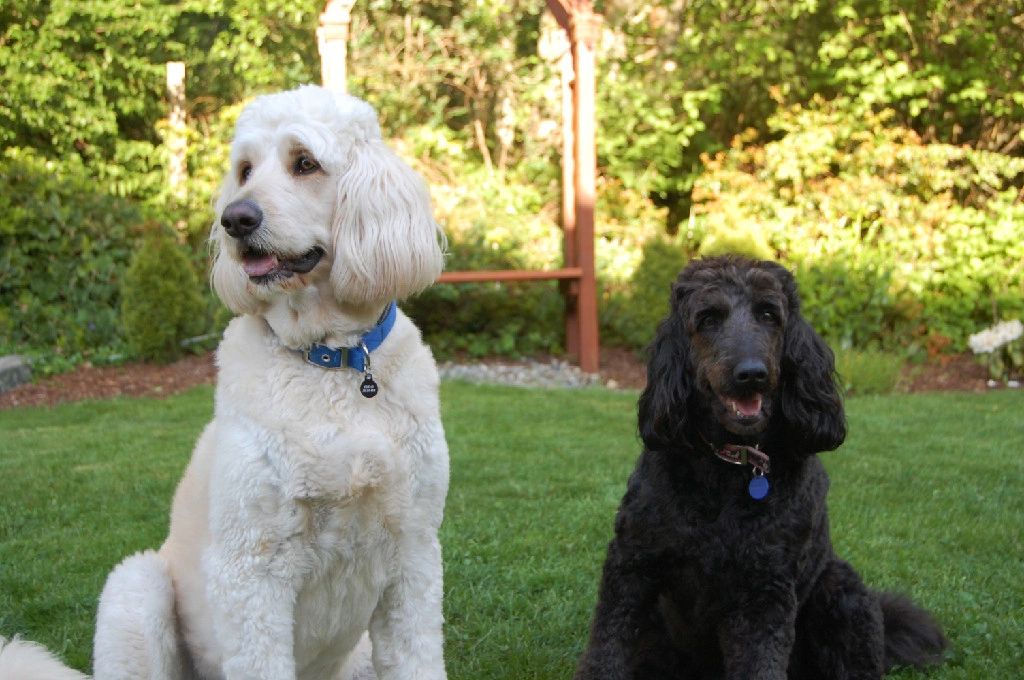 This is Cosmo, Heidi and Preston's son along with his housemate, Mazie, also from Logan Hill Farm. She is from our very first litter with Abby and Rico. They live in Washington State. Cosmo was a small baby but once he got to his new home he just kept growing. Now his is over 80 lbs and still a sweetheart, kind and gentle.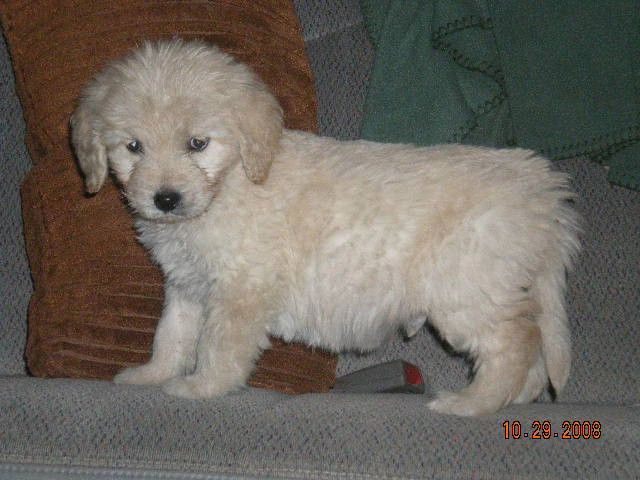 This was him at 7 weeks old.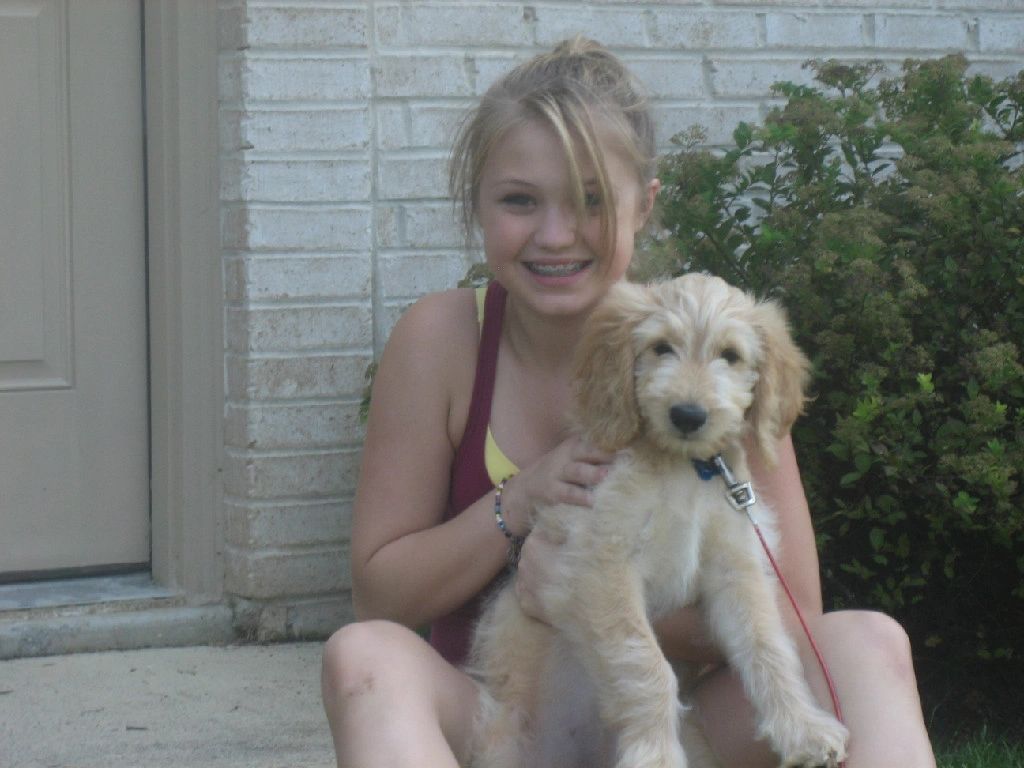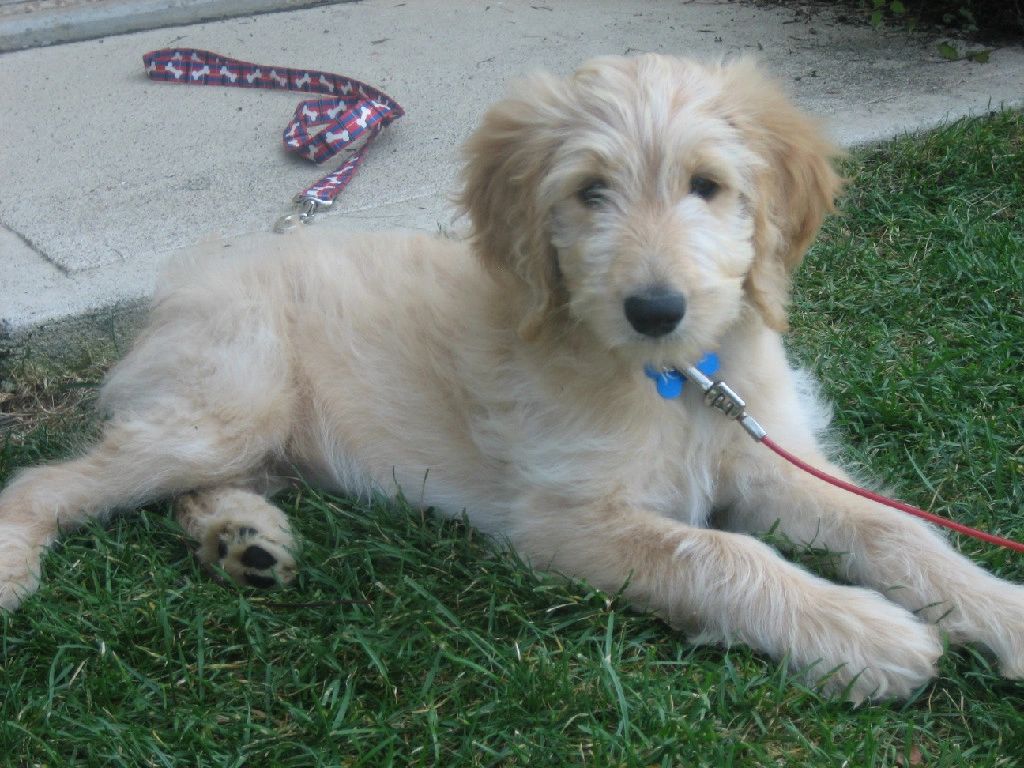 Josie Merril is McDoogle & Preston's girl. She lives in Indiana.